Shopping Page
Buy and Keep out those Flies!
Swoongie's Bye-Bye Bar-Fly
Go here to buy and save your bottles! You can choose your first option here to add to your shopping cart, then you can change the quantity (if desired) on the next page.
Shipping is $3.50 first bag; with additional $ for multiple bags.
Pay through PAYPAL. Paypal is easy to use and no account is required. Your financial information is kept private (we never see it)
Choose Standard, Short Pull Tab, Long Pull Tab, Mixed (3 each of standard, short PT and long PT), Biggies (new! for wine, beer & liquor bottles) or samples. If you want to add additional kinds of caps, be sure to hit the "Continue Shopping" button on the next page, which will bring you back here to add to your cart.
About Returns: We accept returns in the same condition as they were mailed (new), within 21 days of the purchase date. Either a full or partial refund will be honored at our discretion.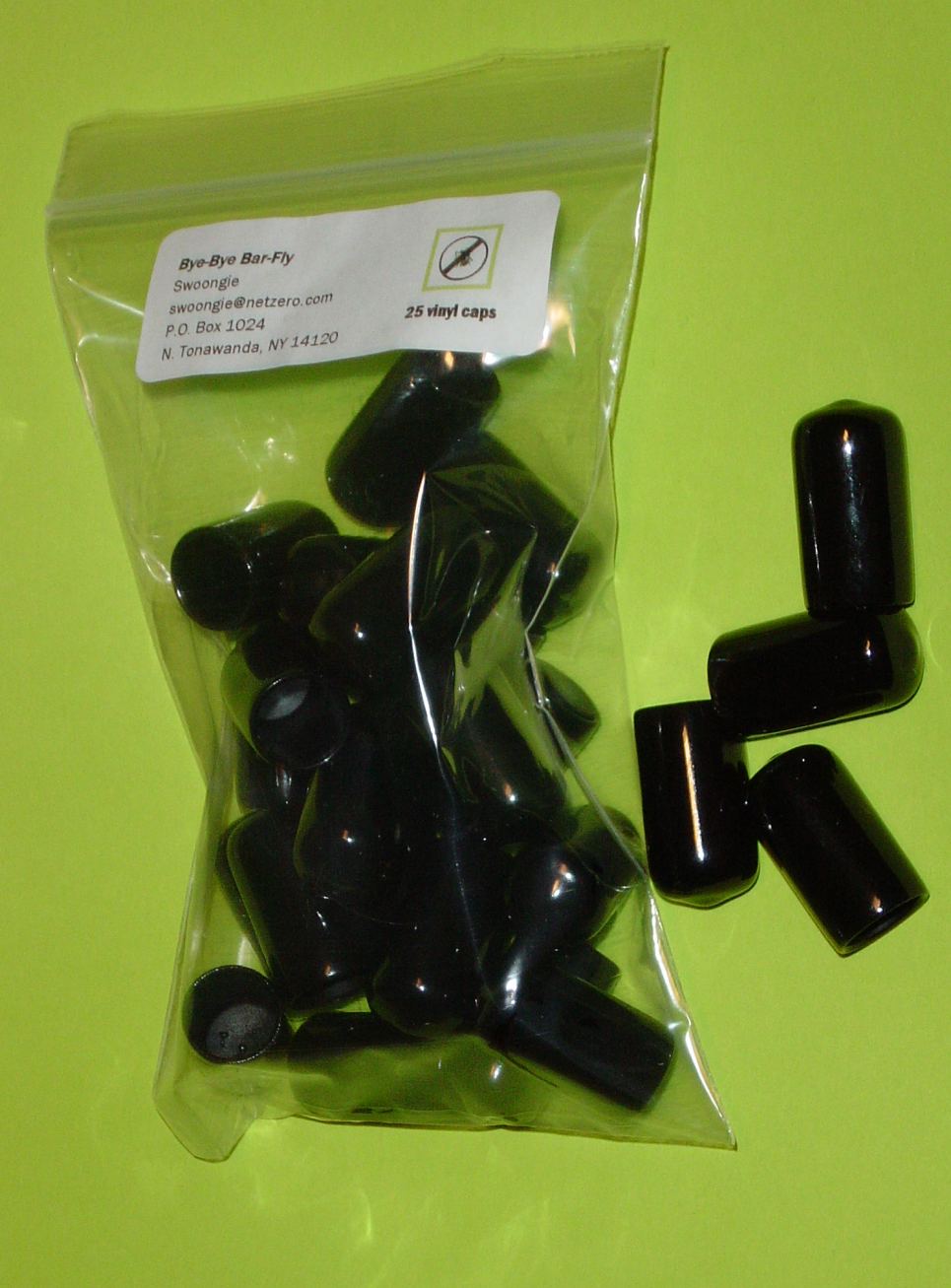 RESTAURANT MANAGEMENT TOOLKIT - Look here! Restaurant Management Forms, Restaurant Software, Business Plan Templates, Marketing & Promotions For Restaurants, Cafes and Hotels. Click Here!
bars, flies, fly, fruitflies, fruit flies, mayflies, gnats, bees, insects, ants, dust, airborne microbes, allergies, clean, dirty, safe, pest control, pest prevention, restaurants, bye bye bar fly, stop flies, liquor, bottles, alcohol, drink, pourers, pour spouts, caps, vinyl caps, screen, screened spouts, golf tees, shot glasses, dead flies, fly trap, fly paper, bar supplies, beverage, products, patio bar, nightclub, niteclub, night clubs, lounges, cocktail, get rid of, barfly, bartender, owner
We appreciate your business! Spread the word to other bar and restaurant owners about the fruit fly stopper for your pourers: Bye Bye Bar Fly!